Many businesses and corporations own office buildings, warehouses, and other structural facilities to house their workers, equipment, and products. The one thing that protects these commercial structures from intense weather conditions, climate changes, and other environmental elements is a strong, durable roof. A commercial roof system stops the hot sun from ruining equipment, shields workers from the rain, and prevents snow's cold bite.

If you're a building/facility manager or a commercial building owner, it might be time for a new roof or to restore it. Hiring a commercial roofing contractor is the first step to take when it comes to taking action for roof restoration or replacement. With well over 100,000 known roofing businesses in the United States, it can be tough to find a good commercial roofing contractor.

Follow these tips for how to hire a commercial roofing contractor that you can trust to get the job done safely and efficiently.
What Is Commercial Roofing?
Commercial roofing is the installation or the repairing of a commercial building's roof structure. Commercial roofing uses strong, commercial-grade materials to protect a building's structure from harsh weather, climates, and other hazards.

Residential and commercial roofing solutions shouldn't be confused with each other as the two applications are very different. Residential roofing solutions and repairs are generally faster to complete and use more eye-appealing materials. The major differences between residential and commercial roofing lies in the materials available for the projects and the amount of time it takes to complete the roofing project. While residential roofing is commonly known as having a "steep slope", commercial roofing typically consists of a "low slope" or "flat roof".

Generally speaking, residential roofing solutions and restorations can be completed within one day or one week. Commercial roofing solutions and repairs take more time and could end up extending to one month or longer, depending on the weather, materials, and the experience of your commercial roofing contractor.

Never hire a contractor to work on your commercial building's roof if they only have residential roofing experience. A roofing contractor who isn't trained and hasn't worked on a commercial structure's roof won't know of all of the materials to use and the complications that can surface during the project. Hire a commercial roofing contractor that fully understands the differences between residential and commercial roofing solutions.

How Often Should a Commercial Roof Be Inspected?
Commercial roofs should be inspected at least twice per year. The roof is an extremely important structural element for your building. Having a leak or a collapsing roof can cause dangerous working conditions and can very well damage some if not all of the equipment and hurt people that utilize the building on a day-to-day basis.

Roof inspections should be done in the months prior to the extreme weather seasons such as summer and winter. This provides plenty of time for you to hire a commercial roofing company and have them start and finish the roof restoration or replacement before the hazardous weather kicks in.

Signs You Need Commercial Roofing Restoration
Your commercial roof doesn't just protect the interior building structure from the outside elements, but keeps the inside elements sealed in. Keeping the building hot or cold during various times of the year depends on the roof's performance and insulation. If there are noticeable issues with the roof, it should be cause for concern as there are many issues that can occur due to a fragile roof.

Signs that you need commercial roofing restoration or a new roof include the following.

Noticeable Changes in Utility Bills
Roofing aids with insulation. If your building is noticing an increase in utility bills, such as energy bills, to keep the temperature consistent for personnel usage, the building's roof could have structural damages or insulation problems.

Failing Flashing
If the building's roof is experiencing leaks, cracking, warping, or other damages, it could be due to the building's flashing. Roof flashing is essential for the joints of the roof (where materials connect). It acts as a type of sealer to prevent leaks and to protect weak points within the structure of the roof. Typical roof flashing materials include galvanized flashing, copper, and aluminum.

Failing flashing could result in the roof collapsing or other parts of the building structure showing signs of water incursion such as mold growth, elevation in humidity, flooding, or even pest infestation.

Bubbling On Roof Surface Area
Bubbling on the roof's surface means that moisture has been trapped underneath the membranes of the roof. Typical materials used for the roof's surface area tend to bubble and then start to show signs of mold if moisture has been captured under the membranes. Surface areas that show signs of moisture expansion or material warping should be repaired immediately so as to not spread the moisture.

Roof Support Deterioration
Opposite of bubbling on the surface area of the roof is dips or low spots where water likes to sit after rain, snow, or hail. When water pools up in a direct area, the weight of the water slowly forces the surface area materials to dip under the pressure. Unless otherwise removed, the water should eventually evaporate. However, these dips could indicate damage to the underpinnings, rafters, or joists of the roof.

If these materials have been damaged by the pressure or the water soaking into the materials directly, it would be time to repair those areas and possibly others.

Blocked or Clogged Gutter Downspout Systems
A gutter downspout system is meant to move the water from off the roof to a designated area, such as the sewer. If any of the installed downspout systems are clogged or blocked, thus causing water to remain on the roof, they should be cleaned out immediately and those areas checked for the previously mentioned water damages.

How to Find a Commercial Roofing Contractor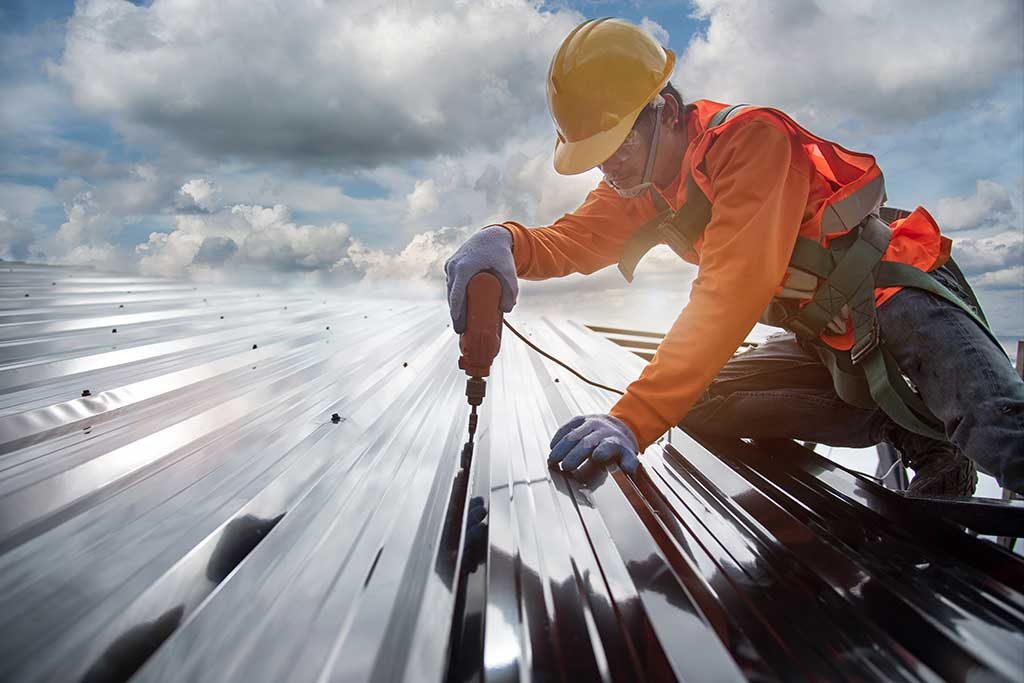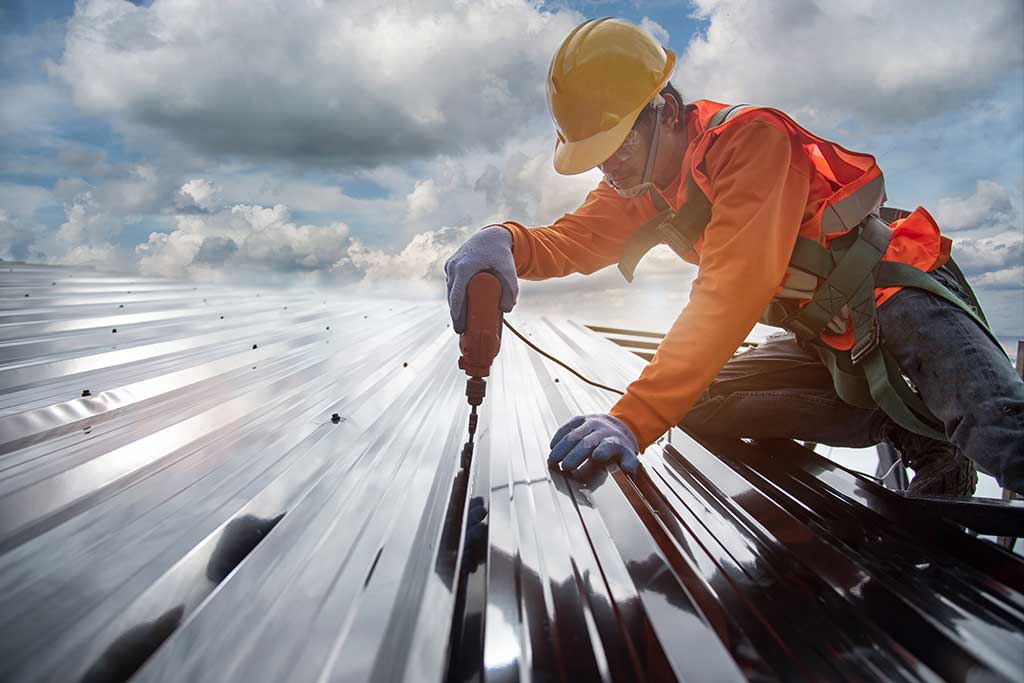 If any of the above-mentioned damages have occurred to the roof of the building, it's time to hire a commercial roofing contractor to come out and inspect the damages for themselves. It's one thing to see the structural damages yourself and a completely different scenario when a professional contractor comes to discover the underlying issues.

The average cost of a common single-ply membrane commercial roofing system is estimated based on a 20,000 square foot commercial roof. This cost is usually between $3.50 and $7.50 per square foot for materials and labor costs. Again, this is based on 20,000 square feet for a single-ply membrane system. This price varies drastically depending on materials and the actual square footage of the commercial building's roof.

You might think it's a good idea to perform a DIY roof restoration, but this wouldn't be the best step to take. While it could be cheaper to gather the materials yourself and jump on the roof to make a "quick" fix, there are a great many benefits for hiring a professional roofing contractor. If you or one of your employees steps on the roof and it isn't structurally sound or they install something ineffectively, more dangers could arise.

Finding a good and trustworthy commercial roofing contractor is a very simple task. You can go about it one of two ways.

#1 Ask Around for Commercial Roofing Company Referrals
Start by asking neighboring businesses or property management for a recommended commercial roofing company. Buildings that have held the same businesses for years will typically see a recurrence of roofing contractors local to the area. If you contact the business owners or management and ask which commercial roofing company or contractors they use, you can create a list of trusted contractors. Other business owners will only use contractors they like, trust, and come at the best price.

#2 Search "commercial roofing company near me" Online
The second way to go about finding the best commercial roofing company to service your building is to search for them online. Nowadays, it's easier than ever to find a trusted contractor. Go to your preferred search engine (probably Google) and type in "commercial roofing company near me". This will provide you with a list of related results, specific to your commercial roofing needs.

Choose from the list of prospects to find the best suited commercial roofing service near you. At 970 Services, we highly recommend you only hire commercial roofing contractors that are local to your area. Local contractors will have a better understanding of your city's building codes, advice on what materials to use, and the estimated time it will take them to complete your roofing project due to the climate and year-round weather.
As an example, the best way to choose which commercial roofing contractor should service your building in Loveland, CO would be to do a search for "commercial roofing companies loveland co".
There will most likely be a long list of commercial roofing companies within your vicinity, but we recommend choosing from the first three that show in your search results. Typically, these companies will be closer in proximity to your business's location and should have the best reviews.

Reviews are the best way to spot a trusted and highly recommended roofing contractor in your area. Start your search by looking at businesses with reviews rated 4 stars and above, then look at what the reviews are pointing out. If the reviews are discussing only residential roofing projects, then the business most likely doesn't have much or any experience with commercial roofing projects.

Once you have found a company that you think is trustworthy and can get the job done, visit their website to see a few finished projects they've completed for final verification of their skills. Roofing contractors will love to publish their projects to show you the value they can bring your business. Though contractors want to service your business, they won't want to waste your time either if they think they can't do the job you're requesting.

When you've finally finished your research for the company you want to handle the roofing job, contact them and ask them a line of questioning to make sure they are safe to hire and your property will be protected with a roof warranty and insurance.

5 Common Types of Commercial Roofing Materials
Now that you've got a grasp on who to contact and where to find a local commercial roofing contractor to hire, it's time to choose the type of roofing material that will hold under extreme weather conditions and is long-lasting.

The commercial roofing contractor you hire will have recommendations and advice as to what commercial roofing materials to use for your building based on location, climate, yearly weather conditions, building structure, and roof lifespan expectancy. Here are 5 of the most common types of commercial roofing materials to choose from.

Single-Ply Membrane Roofing: Single-Ply Membrane roofing has two most commonly used types of roofing materials, EPDM and TPO. EPDM stands for ethylene propylene diene terpolymer, which is a rubber roofing membrane that's very durable. TPO stands for thermoplastic polyolefin, a very popular single-layer membrane that uses a multitude of rubber (not plastic) solutions and is typically used for flat roofs.
Metal Roofing: One of the most well-known and oldest forms of commercial roofing, metal roofing is a great solution for a strong, durable, fire-resistant roof. It is, however, prone to rust, but can be included with a protective layer to prevent rust from developing.
Built-Up Roofing (BUR): Also known as "tar and gravel" roofing systems, built-up roofs are installed with a multitude of alternating layers with the final layer consisting of gravel or stone. This roofing system is best for flat roofs and is very cost-effective since you can choose the number of layers you want to be applied to the roof.
Spray Polyurethane Foam (SPF) Roofing: SPF is sprayed onto an existing roof in liquid form to then expand into foam. This type of roofing material was introduced in the early 1960s decade as an eco-friendly commercial roofing option. It is cost-effective, waterproof, and easy to install.
Green Roofing: Within recent years, this roofing option has become widely popular for commercial buildings, not just because of the visual appeal of the vegetation, but because of the benefits the ecosystem presents. Green roofing helps with roofing insulation and water management, keeping water at bay and protecting the building from the heat and cold.
Conclusion
We've come to the end of our journey for choosing your commercial roofing contractor and a roofing material that fits your commercial building. To select the best option for a commercial roofing contractor, look for a company that offers a variety of roofing material services and has experience with the most common roofing materials listed above.

After inspection, the roofing contractor can provide you with advice as to whether or not you should restore or replace your building's roof. Create a budget that is realistic and present it to the contractor, this will help with the decision making for your commercial roofing needs.

970 Services has dealt with a variety of commercial roofing projects using a multitude of materials. Give us a call today for a free inspection! Our team has many years of experience in commercial roofing and we can provide you with our expert opinion for a roof replacement or restoration that fits your location and building.